Die drei ??? - Das verfluchte Schloss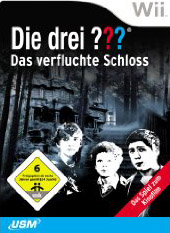 This was my first cross platform game since at was build for thw Nintendo Wii but later it has also been released for PC. The game has been built with the Vision Game Engine and it was as far as I know also the first Wii game that was built with that engine and therefore we had to fight with a lot of bugs during the development. We also hadn't much budget/time for the game so this brought up some interesting design choices. In the game you're walkign through some kind of castle and you have minigames in the rooms that you need to finsih in order to solve the final puzzle. The minigames have been build with flash and through a a UI library called Scaleform they are playeable in the game.
Position: Programmer
Company: Exozet Games GmbH
Publisher: United Soft Media Verlag GmbH
Platform: Nintendo Wii & PC
Release: 30. September 2009
Info: amazon.de
Experience the three cult detectives Justus, Peter and Bob in their latest adventure and solve exciting puzzles. "We'll take over in any case" is the motto of the most famous detectives of all time. In this case, a mysterious video leads the detectives into an abandoned castle, where they are supposed to be haunted. But there is much more to it than is initially thought. And then an old acquaintance reappears … … No doubt, this is surely the scariest and craziest case that "The Three ???" ever had to deal with.