My Beauty Hotel for Animals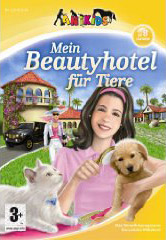 This was the second game I've worked on at exozet and while its a kids game and nothing I would have played it had quite some challenges since it had some simualtion aspects and it was the first game I've worked on I could give my little siblings to play with and they actually enjoyed it.
Position: Programmer
Company: Exozet Games GmbH.
Publisher: dtp young entertainment GmbH & Co. KG Platform: PC.
Release: 2. November 2007
Info: amazon.de
In "My Beauty Hotel for Animals", your favorite pets will not miss anything. The exclusive resort gives you the chance to style and style dogs and cats and to pamper them with every conceivable luxury. Starting with the chic collar, which you can create yourself in your own shop, to aqua aerobics and acupuncture, you can offer everything to your little darlings. Stressed masters and mistress will confidently give their four-legged friends into your hands for a long time. Find the right themed room for each of your four-legged customers. Will the chic Siamese cat like the princess suite the best or do they prefer the Asian bungalow? Receive particularly exclusive customers with your own stretch limousine at the airport and read their every wish. If the fine dogs want to get really dirty, take a long walk on the beach with them. Let's get your first star! Thanks to luxury, wellness and your love, every four-legged friend is a star here!